Sheridan Showdown: 2018 Ford Fusion vs. Kia Optima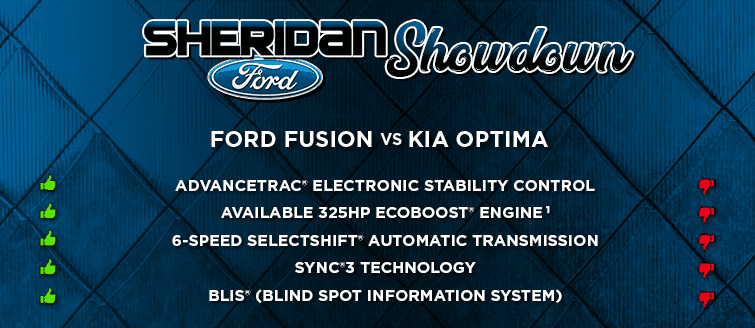 Ford Fusion vs. Kia Optima
When comparing the 2018 Ford Fusion vs. Kia Optima, the Fusion offers many features which the Kia simply doesn't. From its lineup of award winning engines to the sleek style to its power, the Fusion is the clear choice.
Sheridan Ford is offering the best lease deals on the 2018 Ford Fusion. With spacious room for 5, plus a range of seating choices from durable cloth to quilted and perforated leather trim,2 the carefully crafted interior of Fusion welcomes all. It's updated grille and LED tail-lamps will make you do a double take. Take a test drive today to see all the new features and different models.
Decide What Moves You
Chose between Gas, Hybrid and a Plug-In Hybrid as your power source. If you are looking for an impressive combination of power and efficiency opt for an available EcoBoost.®2,3 engine (1.5L EcoBoost, 2.0L EcoBoost2,4, or the 2.7L EcoBoost – standard on V6 Sport). If you chose a Hybrid, your gas engine and electric motor work together or apart to maximize power and efficiency5. A lithium-ion battery that powers the electric motor helps Fusion Hybrid operate in electric mode at speeds up to 85 mph. If you would like the option to operate on shorter commutes on battery power alone, consider the Fusion Energi Plug-In Hybrid. It can drive an EPA-estimated 21 miles solely on electricity.6 When you're in need of a charge, this model acts like a Hybrid, utilizing gas when needed.
Stay Connected On The Go
Use the FordPass™ to compare fuel prices, find the best parking and schedule your next service at your preferred Ford dealership. Once you get behind the wheel, Use SYNC®32,7 (SYNC Connect not available on Fusion Energi) to make calls, get directions and choose what you listen to. You can do all of this while paying attention to the road before you; it works with responsive, voice-activated technology. The Fusion is also equipped with a touchscreen in the center of your instrument panel to access its many helpful features.
You won't find these technological features in the 2018 Kia Optima.
Express Your Sense Of Style
From its elegant grille to its radiant LED tail lamps, the sculpted lines and swept-back silhouette of the 2018 Ford Fusion prove irresistible to the eye. Now, after deciding which power source is right for you, it's time to decide which model most excites you. You've got plenty to choose from. And because it's Fusion, all empower you in sophisticated style.
Click here to see Sheridan Ford's Inventory of Ford Fusions.
2018 Ford Fusion vs. Kia Optima
1 Available feature 2 Remember that even advanced technology cannot overcome the laws of physics. It's always possible to lose control of a vehicle due to inappropriate driver input for the conditions. 3 Don't drive while distracted. Use voice-operated systems when possible; don't use handheld devices while driving. Some features may be locked out while the vehicle is in gear. Not all features are compatible with all phones.4 BLIS replaces standard integrated blind spot mirrors. 5 Lane-Keeping System does not control steering.