Ford Bronco Reviews

When you're out looking for a capable off-road SUV, you'll want to know it has all the features and capabilities to make each adventure memorable. While the Ford Bronco has already built a solid foundation on delivering quality performance, we'd like to show drivers in Wilmington, New Castle, and Newark, Delaware, what it can do for you.
That's why, here at Sheridan Ford, we've collected this library of Ford Bronco reviews that offer more in-depth takes on how it can become a welcome part of your family.
---
Ford Bronco Performance
The Ford Bronco comes standardly equipped with a 2.3L EcoBoost® engine that's paired with either a 7-speed manual or 10-speed automatic transmission. It puts out 270 horsepower along with 310 lb-ft of torque.
For drivers who'd like more power, there's an available 2.7L EcoBoost® engine option. This is paired only with the 10-speed automatic transmission. As for power output, this engine generates 310 horsepower along with 400 lb-ft of torque.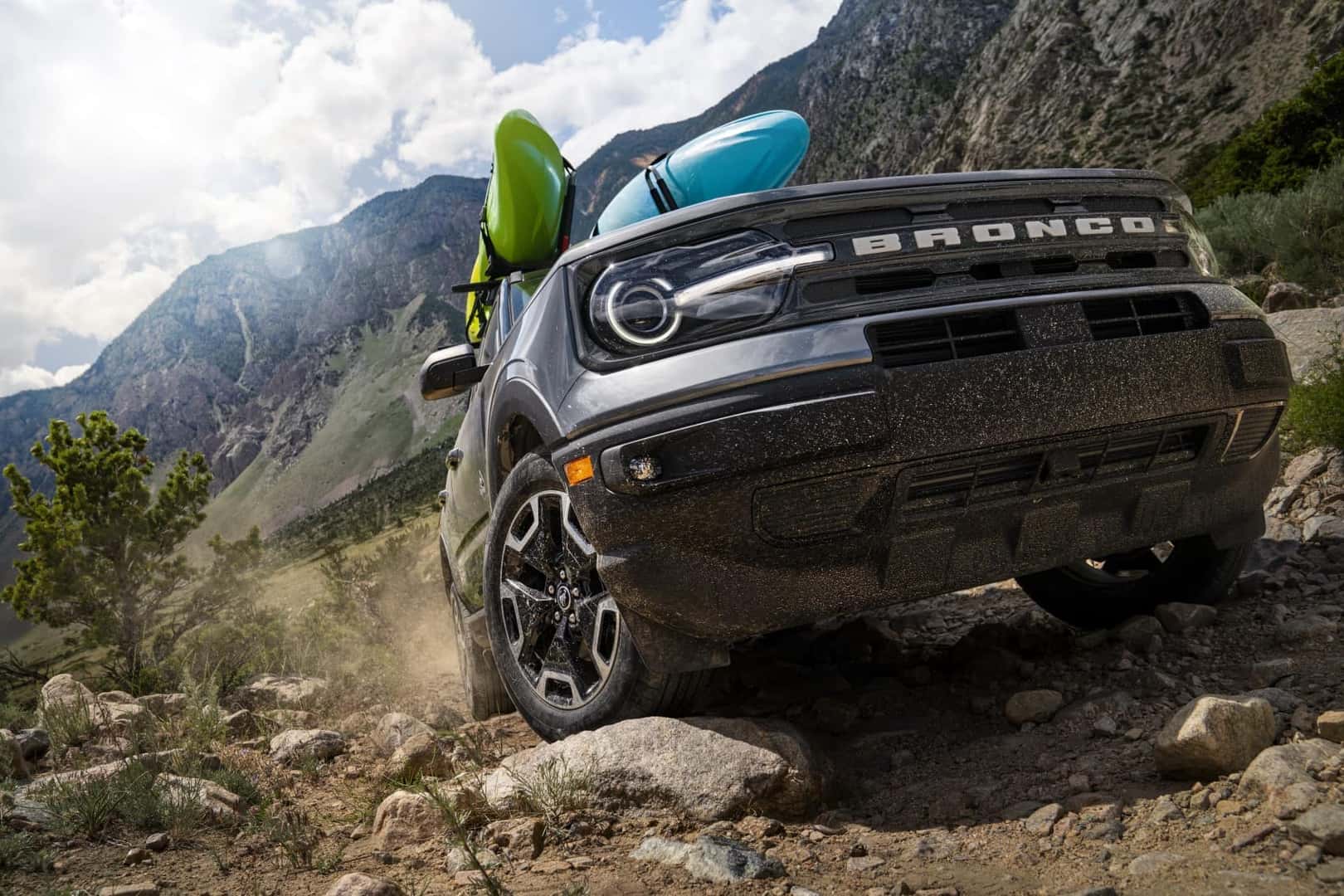 An additional fact is that both engines take regular unleaded fuel.
Ford Bronco Interior
The interior space of the Bronco is generous for both passengers and cargo. With the 2-door model, you'll be working with 99 cubic feet of passenger volume, while the 4-door configuration increases that to 103.7 cubic feet. You'll have more than enough space for your four passengers in the 2-door model, while the extra space in the 4-door version accommodates a fifth passenger nicely.
Cargo volumes differ between the 2- and 4-door models due mainly to the inclusion of the soft top as an option on the 4-door model. On the Bronco 2-door, you'll get 52.3 cubic feet behind the first row and 22.4 cubic feet behind the second row. For the Bronco 4-door, we'll list them as row, then hardtop followed by soft top:
Behind 1st row: 77.6 cubic feet/83 cubic feet
Behind 2nd row: 35.6. cubic feet/38.3 cubic feet
Either model will give you the space you need for cargo, so it's really just a matter of personal preference.
Ford Bronco Trims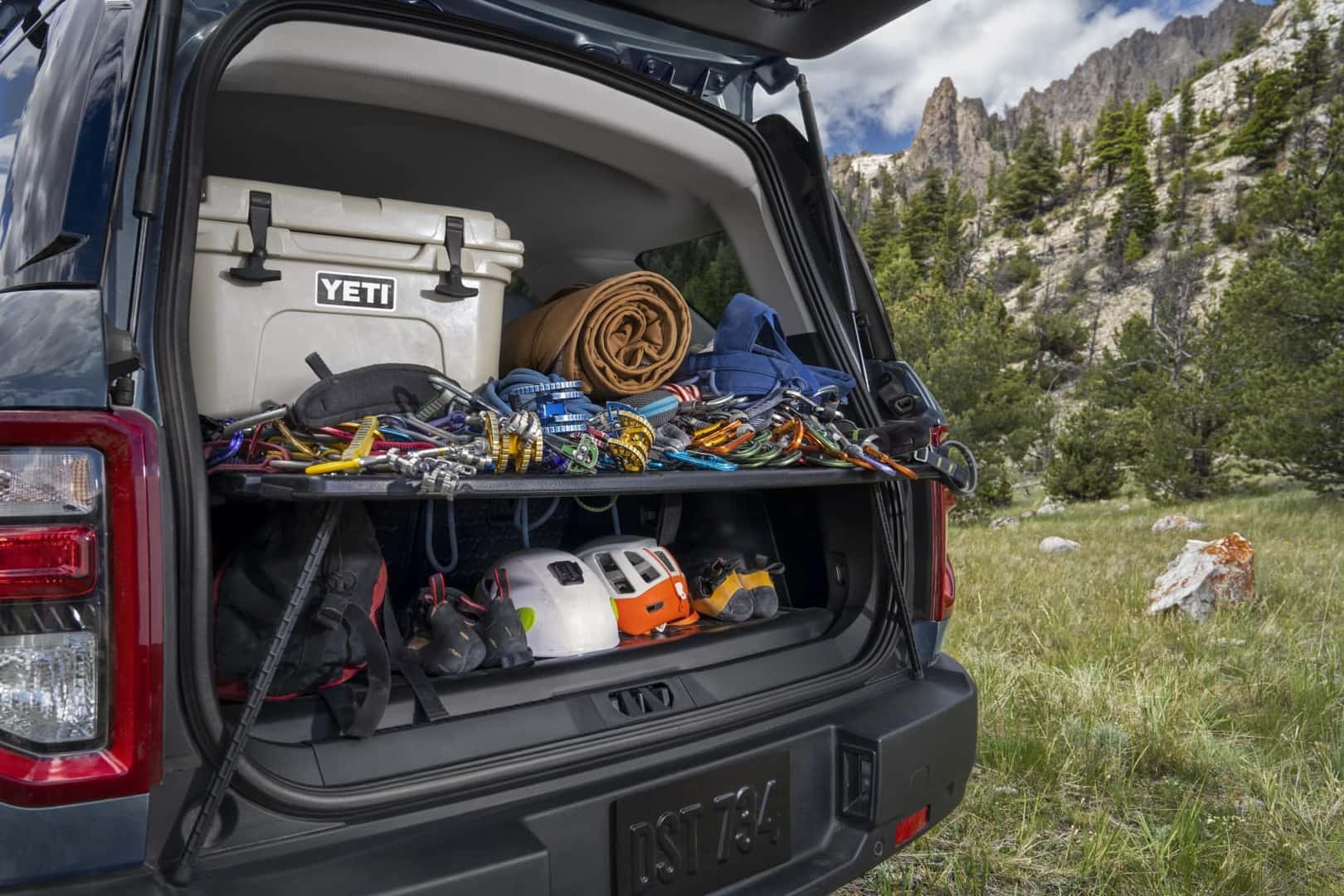 The Ford Bronco comes with seven trims, including the base. In order from low-end to high-end trims, they are:
Bronco Base
Bronco Big Bend
Bronco Black Diamond
Bronco Outer Banks
Bronco Badlands
The last two, the Bronco WildTrak and the Bronco First Edition represent the pinnacle of Ford Bronco engineering. No matter which trim you choose, though, will benefit from the HOSS (High-Performance Off-Road Stability Suspension) System. This system is constructed of the finely tuned components that support your Bronco—shocks, solid rear axle, and springs—and helps keep its tires planted on the ground in rough terrain.
Want to Know More About the Ford Bronco?
We hope our collection of reviews of the Ford Bronco has helped you make a decision on moving forward. We hope our drivers near and around Wilmington, New Castle, and Newark, DE have thoroughly read about how the Ford Bronco can be a new advantage for them on the road.
If you're curious for even more information, the team at Sheridan Ford encourages you to schedule a test drive of your own. To do so, contact us directly at your convenience.