Community Spotlight: Lori's Hands
Community Health Services & Lasting Connections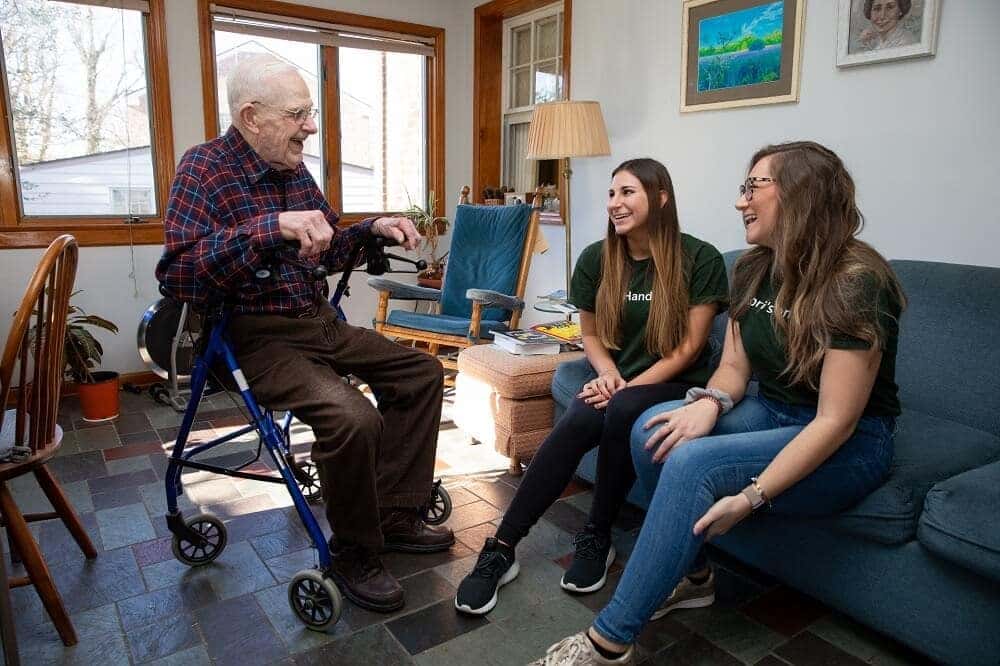 Lori's Hands is an organization that pairs student volunteers with community members living with a chronic illness.
Over 100 community residents benefit from the program each week and 175 college students from the Newark, DE, area participate in Lo service-learning projects with Lori's Hands. Students help clients complete non-medical-related tasks, such as grocery shopping, housework, and much more.
Below, you will find a brief history of Lori's Hands, more details about the services they provide, and information on how to get involved with this incredible community!
The Legacy of Lori LaFave
Lori LaFave lived in Voorheesville, NY, was diagnosed with breast cancer in 1995, and died in 2003. Her daughter, Sarah, founded Lori's Hands to honor her mother while studying at the University of Delaware.
Today, the mission of Lori's Hands is to educate motivated students, support people living with chronic illness, and forge cross-generational connections.
Community Health Services
Lori's Hands offers undergraduate college students a plethora of educational resources and experiential learning opportunities to prepare them for future work in the community health field. Lori's Hands provides:
Service-learning courses
Community clinical rotations
Internships
Pre-med & PA (Physician's Assistant) experience
Student volunteers help clients improve their overall wellbeing and increase their independence through weekly visits, which they complete in pairs. Lori's Hands focuses on the following types of support:
Social: visits, calls, letters, tech assistance, & sharing hobbies
Physical activity: housework help, yard maintenance, & pet care
Nutrition: grocery shopping & meal preparation
Health: medication pick-up & administrative support
In turn, clients share insights about the multi-faceted challenges of living with a chronic illness, as well as details about their personal experiences and other life lessons.
How to Support Lori's Hands
Lori's Hands seeks to help their clients achieve the highest quality of life possible, while keeping them in their home community. If you or someone you know seems like a good fit for Lori's Hands in either a volunteer or client capacity, contact a team member today.
Also, be sure to spread the word about the work of Lori's Hands, sign up for their newsletter, and to follow them on both Facebook and Instagram!
Photos courtesy of Lori's Hands